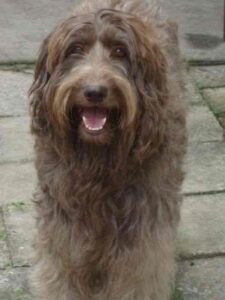 Authentic Australian Labradoodles are known for being exceptional service dogs. Authentic Labradoodles are highly sought out as loving companions for people with pet allergies due to their hypoallergenic nature.
Australian Labradoodles are highly intelligent and extremely adaptive to the needs of their owners. This makes an Authentic Australian Labradoodle an excellent pet and companion for anyone who is looking for a loving and well-tempered four-legged friend.
What makes a Tegan Park/Rutland Manor Authentic Australian Labradoodle special?
The traits and dispositions of our Authentic Australian Labradoodles were developed over twenty-two years of research in Australia and, with this special attention, have yielded a special mix of several gene pools that result in a very special dog.
We at Sandcastle Labradoodles are dedicated to the preservation and enhancement of the genetic lines of the Tegan Park-Rutland Manor Authentic Australian Labradoodle. Through the breeding of only authentic Tegan Park-Rutland Manor bloodlines, we are able to bring you the healthiest, happiest, soundest Authentic Australian Labradoodle puppies. These wonderful animals are known for the following traits:
* Bred for soundness and temperament
* Athletic
* Graceful
* Non-shedding
* Non-allergenic
* Free-flowing, wavy or curly coat
* Easy to train
* Highly intuitive
* Joyful
* Energetic, but quiet when handled
* Keen to learn
* Several sizes/colors available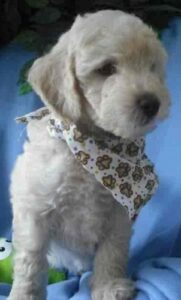 Sandcastle Labradoodles does NOT infuse new genetic lines
We do NOT infuse new genetic lines into the Authentic Australian Labradoodle gene pool. After twenty-two years of Tegan Park and Rutland Manor's research, infusing new genes would risk the loss of the traits for which this breed is known and loved. Their present mixture of genes consistently produces remarkable, perfect, non-shedding, hypoallergenic service dogs and pets.
Changing the Authentic Australian Labradoodle bloodlines by the addition of non-authentic Labradoodles would insure that the Authentic Labradoodles would not be recognized by the American Kennel Club (AKC) as a pure breed.
We believe that for the serious and careful Authentic Australian Labradoodle breeder,  there is sufficient diversity in the Authentic Australian Labradoodle gene pool as it was developed and proven. We greatly thank Angela and Beverly for this breed and we expect you will too after owning one of these wonderful animals.
---
Please contact Virginia at +1 (586) 306-6856 for more information and pricing.