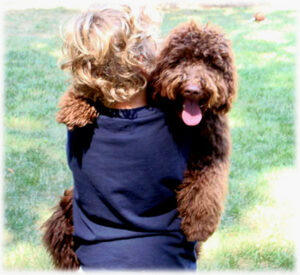 You can't buy loyalty, they say, bought it though the other day.

You can't buy friendships, tried and true. Well, just the same I bought that too.

I made my bid and on the spot, Bought love and faith and a whole lot of

happiness, so all in all, the purchase price was pretty small.

I bought a single trusting heart, that gave devotion from the start.

If you think these things are Not For Sale

Buy a brown-eyed puppy with a wagging tail.

-Author Unknown
The adoption fee for a Sandcastle Labradoodle PET puppy is 2,000-3,200. This price is for a pet puppy only and does does not reflect the cost of a puppy purchased for breeding purposes. All of our pets are sold under a spay/neuter contract. (Sandcastle Labradoodles has the right to cancel or refuse to sell a puppy and return a deposit if we feel it is not in the best interest of our puppy).
Sandcastle Labradoodles also provides trained puppies at a total cost of $3,500. Your puppy will learn place command, will be crate trained, learning to walk on a leash, the come command, the sit command and how to great strangers. This is a new offering for Sandcastle Labradoodles. Please contact us for additional information at 972-754-7372.
A $500.00 deposit is required to reserve your puppy. This deposit will be credited toward the final purchase price. Your balance due is to be paid when the puppy is delivered to your home. A small delivery charge may be imposed. We will hand deliver anywhere in the lower states. Should a puppy need to fly to their home, adopter will be responsible for cost of flight and guardian. We do not place our puppies in storage.
***Breeder reserves the right to retain any puppy/puppies for their breeding program in all litter***
All of our puppies receive social and early neural stimulation. They are introduced to children, adults and car rides to ensure you receive a happy, intelligent and fun puppy.
Your Puppy will arrive with:
* Pedigree
* Veterinarian's Health Certificate stating that your puppy is healthy at the time of arrival
* Two Year Genetic Warranty
* Record of vaccinations
* Spayed/Neuter Contract
* Microchip number
* De-wormed
* Care Instructions
* Sample bag of food puppy has been eating (Blue Wilderness Chicken puppy food)
* Copy of Sandcastle Contract, Spay/Neuter Contract and Genetic Health Warranty
*World Australian Labradoodle Association Registration documents will not be sent until after proof of spay or neuter
I have read and do fully understand and accept the terms of payment and non-refundable fee towards booking, purchase, and delivery.
Signature: _______________________________________________
PAYMENT METHOD (Circle One):
CHECK / Money Order: _____________________________________
Venmo/Zelle: ____________________________________________
If paying by Check or Money Order, please make payable to Sandcastle Labradoodles.
Mail to:
Sandcastle Labradoodles
C/O Tim & Janet Ingersoll
PO Box 128
Bells, Texas 75414
If paying by Venmo or Zelle please contact Janet Ingersoll on 972-754-7372.