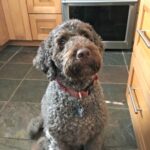 1. Please fill out the application form below. to start your adoption process.
2. When we receive your application and non-refundable, a deposit of $500 USD for a puppy, we will place you on our waiting list and contact you. Your deposit will be subtracted from the purchase price of the puppy.
3. We will notify you when your very own puppy has been born. The selection process is determined by the date the deposit is received.
Adoption Process Application Form
* (all fields are required)
*** Notes ***
1. Your puppy will be de-sexed (Spayed/Neutered). Sandcastle Labradoodles extends to you our ongoing support and advice.
2. I understand that my application is not complete if I do not send the booking fees. For any assistance with your application, please call us at +1 (586) 306-6856 or +1 (352) 343-8100