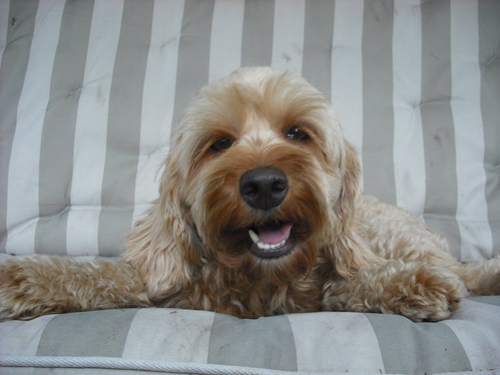 Our Authentic Australian Labradoodles puppies are born into the warmth and comfort of our home and are raised with loving care to develop the very special qualities of the Authentic Australian Labradoodle.
From their first breaths, these Authentic Australian Labradoodle pups are held close to our hearts. From that first day, we are learning their personalities. Soon, we will look through our list of reservations to select the puppy that appears to best match what you have asked for. We will then contact you to tell you we believe your very special Authentic Australian Labradoodle puppy has been born.
Over the next five to seven weeks we will carefully be watching to ensure your puppy is truly the best match for you. You will be able to follow your baby's growth on our website or come visit. We will be taking the very best care of your Authentic Australian Labradoodle puppy. It will have regular physical exams and all the appropriate worming and immunizations. The health records and health certificate will be yours to keep.
While growing, your Authentic Australian Labradoodle puppy will play in our puppy yards and be paper and crate trained. He or she will learn to walk on a loose leash and come when called. Your baby will run and play in the sunshine and under the large shade trees on our 2-1/2 acres with its brothers and sisters, and after weening, with its mom and our other Authentic Australian Labradoodles.
After active and happy days, your baby returns to a clean nursery and fresh blankets and dinner is served. All our Authentic Australian Labradoodles are tucked into music and it is lights out for a good night's sleep.
Caring for your Authentic Australian Labradoodle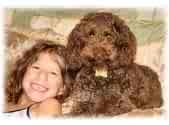 Thinking about owning a new Authentic Australian Labradoodle puppy is exciting. First off, the more information you have the better. So we suggest training books and dog school. We promise whatever time you put into your Authentic Australian Labradoodle you will get back tenfold!
Diet
Your Authentic Australian Labradoodle puppy's diet should be chosen as carefully as your own. Your puppy packet will contain a package of puppy food. Your vet will have recommendations. Your puppy needs to eat three times a day as much as it will eat in 1/2 hour, until one year old. It should always have fresh water available.
Rest
Puppies need their rest. It is important for those healthy growing bodies and minds. Make sure puppy has a place of its own to go to (where it is not followed) to seek rest when needed.
Worming
Your Authentic Australian Labradoodle puppy has been wormed here every two weeks. This should be continued until he/she is 3 months old, again at 6 months, and then every 3 months until they are one year old. Heartworm prevention should start at 3 months. See your Vet for more details.
Vaccinations
We will give your puppy its first set of vaccinations. You will receive these records. The puppies boosters are due at 12 to 14 weeks. This is also the time when a puppy should receive its Rabies vaccination.
Grooming
Authentic Australian Labradoodles seldom need a bath. They have nobody odor and their coats tend to be nonporous and resistant to dirt. In fact, the more you bathe them the fewer natural oils are left in the fleece to protect it from dirt!

When you do bathe them use baby shampoo and conditioner or detangler to keep the coat silky and tangle-free, which makes it easier on them and you. The important thing to do is to brush frequently with a wide-toothed brush or comb, particularly under their legs and ears. Trim very short under the ear flap, to allow air to circulate in the ears, and under elbows, and behind the hind legs. Once a month for this trimming is fine.
Training
Their incredible intelligence makes it easy!
Your Authentic Australian Labradoodle puppy will come to your crate and paper trained. While getting used to their new home, it is a good idea to leave paper by the door if you want your puppy to get accustomed to going out to relieve themselves. The puppy has already been trained not to pee or poop where it sleeps, though you may have occasional accidents. We advise that you keep your puppy's crate near the most occupied area of your home. Your puppy will soon realize that his/her crate is their retreat area. Remember, do not allow children to bother the puppy during their resting time. The puppy will not mind if you close the crate; when he/she wakes up, open it to let them go outside. Puppies typically need to relieve themselves 10 minutes after playing, eating, or drinking and immediately after sleeping. It is best to let your puppy out as soon as you get up in the morning and just before you go to bed at night. Don't worry, as your puppy gets older, he/she will need to go out less often!
Never call your Authentic Australian Labradoodle puppy and punish him/her for something they did a minute ago. If you do not catch him/her in the act, you should not scold them; they will not understand what they are being reprimanded for. You may think the puppy knows what he/she has done wrong because they look guilty, ashamed or sorry. Actually, the puppy only knows by your voice that you are angry at it and does not know why; this makes him/her fearful and apprehensive, and perhaps afraid of you.
As soon as you get your puppy, begin by walking him/her on a loose lead at your left side. This will help ensure a pleasant experience walking as he/she ages.
Remember
A little effort brings a happy, well-adjusted, obedient family member into your home for many years of harmony!